The Port Hardy Canada 150 murals have been officially unveiled.
The pieces were presented as part of National Aboriginal Day.
Merv Child and Stan Wammis carved the pieces. Child says they wanted to create an expression in the first languages of the area.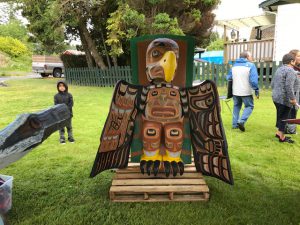 "I think that by far, the greatest contribution that Aboriginal communities can make to our challenging world, our challenging problems and questions about our relationships within this world can be driven and directed by us understanding Aboriginal languages, and what they say."
The carvings will be hung in the Civic Centre.